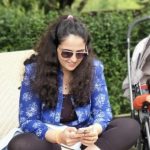 I have tried a lot of things before also for weight loss but seriously with your plan n training I feel more stronger n energetic. your plan has worked really well with me, Not only weight loss it's a lifestyle change! I have started receiving so many compliments.
All thanks to you.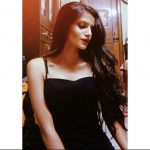 I thought I'd say this by the end of the week but I just wanted to thank you for all of it. I have never felt more confident in my body and the diet is the only reason that I do. Always been bodyshamed and now people look at me and wonder how I gained. So yes, thank you so much!!
I have lost 10kgs in 2 months. 86 kgs to 76kgs. This is so amazing that how a simple conversation and a decision can make a huge impact. Thank you so much Ruchi for changing my life for good!
Thank you Ruchi! You helped me when I had lost all hope because losing the stubborn belly fat post pregnancy is not easy! I feel fitter & healthier & by gods grace I am expecting my second child. I am feeling much more healthier this time around! I am sticking to the lifestyle you taught me! 
Thank you COACH Ruchi sharma . If I had not found you,  I don't know where I would be right now – probably piling up kilograms.  Everything I had been taught growing up about nutrition is backwards from what I now confidently believe! Thank you for helping me find this wonderful path that has allowed me to amp up my health, my energy, my life! This was my first attempt to get fit and To be honest the best one.
I have so much more energy now than I did before that I've started . I sleep better. I can eat as much as I want, but I tend to eat less than I did before starting EFR because my body actually responds to feeling full!
After the first couple of weeks and seeing some results, almost all of my cravings went away and it just got easier and easier. I  feel great about the way I look and feel!
Here are my first and last week changes. My weight is now 62 kg and lost 4kgs in four weeks. Feeling very excited and happy. my skin has started glowing. I can control myself with fast food. Thank you for giving me such a confidence to making me feel healthy.
77 to 70 kgs in 3 months 
I have always been an active person. You would either find me in the gym or my yoga class. I take my fitness seriously not only for my physical health but also for my mental health, though from the past few months, I was feeling unmotivated and discouraged because no matter what I did, I was gaining weight.  I consulted Ruchi a few months back, and it was great to understand my body and how I can have a sustainable diet and be healthier in the long run. I am so thankful to her because I did not feel like I was dieting. It felt very healthy and very doable, which was the best part. The recipes were delicious, and now I have a healthy relationship with food and my body. Now I know what to eat.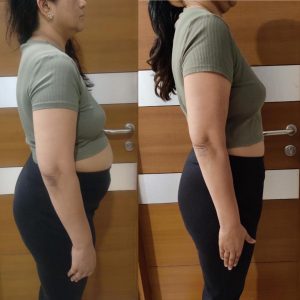 Lost more than 12 kgs
XXL to Large
Feedback: Initially dieting helped me lose weight but unfortunately I couldn't stick to it as they were very restrictive. I am glad Ruchi & Eat Fit Repeat helped me get back my confidence(mostly through sarcasm & taunts, But that's what friends do right?) to make a lifestyle change through proper nutrition & workout. Now going to the gym & working our is an everyday ritual, in fact, I feel uneasy if I have to miss it for some reason. The mantra is to make yourself a priority & indulge in making a Lifestyle change! 
Past 3 months have been life changing for me.There is a different way I look at myself. I have PCOD because of which I gained almost 13kgs in 2months and carried the pain of increasing weight every month for almost 2 years because of which I lost my confidence and started body shaming myself. Then someone suggested me EatFitRepeat as my guide for nutrition. I started with a weight of 73kgs and now here I am with excellent results in just 3months with a weight of 63kgs. Ruchi is an amazing guide and an excellent coach she has taken care of my likes and dislikes and motivated me beautifully to achieve my goals. Now I have a new goal set in mind and I am on my way to achieve it. Thanks a lot Ruchi for being such an amazing guide 
8 kgs & 17 kgs 
We are so thankful that we decided to go with Ruchi from eat fit repeat for our weight loss journey. She has the humane quality of always answering your doubts and reaching out and guiding you in every possible way.
I have bothered her with so many questions but she always made sure to answer all my queries. Her weekly diet chart is so easy to follow and the recipes are damn good.
We both travel almost 20 days in a month for work and still can stick to her diet. I have probably tried all possible diets from keto to GM and even lost some weight with it but as soon as I left the diet I use to put on double the weight I had shed. With EFR plan I lost 8kgs in 3 months from 70Kg to 62kg.
For my husband going on a diet was totally a new thing. He is a big time foodie and traveller, his weight had reached to 109kgs, yes 109!!! No one in my family ever thought that Anuj can even lose a kilo but he lost 17kgs in 4 months and happily by eating his favourite food.
The best part about Ruchi's diet is that it's been more than a year and our weight is constant. It's so easy to convert her diet in a lifestyle. She is the best nutritionist that anyone could have, very professional way of approach. Wishing you more success.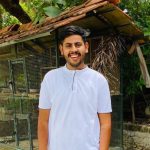 lost 10 kgs in 2 months
Its been some time since I have been with Eat fit repeat , I was never genuine about my well being and fitness until my weight arrived at 99kg, This was the point at which I understood its opportunity to change my unfortunate eating propensities and lifestyle. This lockdown I had gained the most weight in the shortest time.
I need to express gratitude toward Ruchi sharma for her direction (once in a while extremely strict) . More power to Eat fit repeat. I have been under 6 dietcian till 2020 and I found this diet plan to be the G.O.A.T. 
Pros of Efr's diet plan
• Alot of food to eat
• Comes with recipes to cook.
• Always availability of alternatives.
• Not much Time consuming diet , she has solutions to each and everything.
TBH ÷ After so many years I realised its not about restricting your body to eat something, its All about quantified and nutritional diet followed with Exercise. Currently am at most reduced ever in 4 years. 
Thank you for being one of the amazing thing that happened to me in 2020 🥂♥️
Mallika Jolly, Celebrity Make-Up Artist,
Mumbai
The day I completed 6months postpartum I called up Ruchi to help me get back on track. I joined the 3 months EFR program because I wanted to lose weight under proper guidance as I am still breastfeeding my baby. I always had so many options. Ruchi doesn't stop you from eating the food you love. She teaches you the right way to eat. And to be honest I must have had the maximum number of cheat meals that anyone could ever and so many days when i could not even do my workouts because of my routine and irregular sleeping pattern. But I still managed it. She rightly says it's all a result of 'Good Hardwork & Teamwork'
Today at almost 9months postpartum I'm fitting into most of my pre-pregnancy clothes.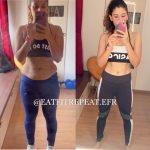 Suvidhi Jain, Mother of Twin Girls,
Mumbai
It has been an incredible journey. When I started with EFR I weighed 64kgs and I thought I wouldn't even be able to go below 60 as I have been stuck on this weight post pregnancy for 8 years now. But in these 12 weeks not only did I go below 60 I touched my pre pregnancy weight. I'm almost 55.8 now. I feel stronger and motivated to do more. EFR has totally changed the way I look at my diet. I always thought dieting would mean cutting out on everything but with EFR I developed a good relationship with my food. I was never starving rather I ate more than what I usually ate. A big thanks to you Ruchi for being so prompt and readily available to give answers to all my queries. And every time I ate a treat/cheat meal you told me how to get back on track.